Promotional Product Spotlight!
Reusable T-Shirt Style None-Woven Custom Tote Bag
Reusable tote bags are a must have for any promotional campaign.  Over the years the best reusable shopping bags have changed from the basic promotional cotton tote bag to trendy reusable shopping bags. One of our best sellers is item 63788 which is also foldable and easy to store.  Made Of 60 Gram Non-Woven, Coated Water-Resistant Polypropylene they make a great  alternative To Plastic T-Shirt Bags.  Below are some other highlights  which make this bag such a great giveaway!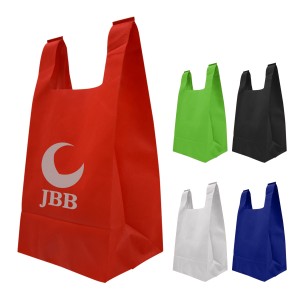 7″ Gusset
Recycleable
5 ½" Handles
Spot Clean/Air Dry
For this bag and many more please visit SuperiorPromos.com