The Importance of Color with Promotional Products
September 15th, 2012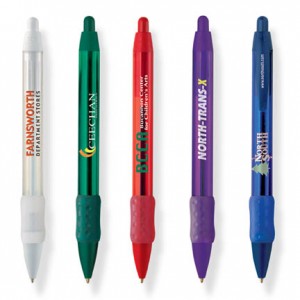 Have you ever stopped to think what the colors surrounding your advertising campaign portray? Colors are an intergal part of your businesses brand, creating a vivid story and a positive image among your target audience.
According to Entrepreneur.com, choosing the right dominant color for your brand is crucial. This color(s) should appear on your promotional materials, including your logo and Promotional Products. This color really sets you apart in your industry and plays an active role in reinforcing your brand. Color plays a huge role in memory recall. Colors can mean a multitude of  things given the context; color provokes many different thoughts, emotions and feelings. According to some sources colors seem to have some universal meaning:
Blue: Blue Promotional Products are often a popular choice for financial institutions. Blue fosters feelings of trust, dependability and fiscal responsibility.
Red: Red Promotional Products are a great way to appeal to your consumers passionate side. Red activates feelings of energy and aggression. Count on this color to be attention grabbing, although the attention might not always be positive.
Green: Green Promotional Products promote feelings of prosperity, optimism, health, freshness and serenity. Green's meanings are extremely versatile which makes it a popular choice among businesses.
Yellow: Yellow is the ultimate symbol of warmth, positivity and light. Yellow Promotional Products are a great way to stimulate and motivate your customers. You can never go wrong with this eye-catching shade.
Purple: Purple a wonderful blend of passion, sophistication and royalty. Our Purple Promotional Products are sure to turn heads and enrich your customer base!
Black: Black is the top chosen color for luxury item branding. Black Promotional Products convey a bold, powerful and serious message while still maintaining a classic look.
White: White Promotional Products connote purity, cleanliness and simplicity. White can be most commonly used with health care products.
Superior Promos has a variety of Promotional Products of all shapes, sizes, functions and not to mention COLORS! Whatever your need is, Superior Promos can design and print promotional items with your message clear and impressionable.  Call 1-888-577-6667 for any questions you have about our promotional products and to place your order.