July 15th, 2012
Are you a Real Estate Professional looking for solutions to build and gain more clients? Promotional Products provide an excellent strategy for marketing, they are also a great way to showcase your gratitude and generosity. These Promotional Products will help you stay on fresh in a clients memory, whether they are looking to buy or sell, your custom printed items serve as a testament to your dedication.
Differentiate yourself among others in the Real Estate Market with some of these Promotional Products, made with professionals like you in mind.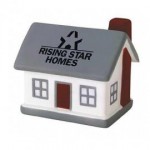 Promotional Stress Relievers - Buying and or selling a home can be quiet the arduous process. Give your clients the squeeze of relief they need!
Promotional Magnets- Clients will stick these magnets on their fridge while you stick in their mind!
Promotional Pens- Promotional Pens are one of the most effective Promotional Products. Your clients will thank you for the practical gift and you will thank them when they are signing on the dotted line.
Promotional Keychains - The Promotional Keychain is the perfect symbolic gift for the new home owner. Hand your clients their new keys along with your custom imprinted keychain.