August 6th, 2020
Unique occasions, staff appreciation and consumer rewards – a chance to order a personalized, spectacular sales presentation that brings the company (and probably the budget) to the next stage.
But what of the daily promotional items – the ones you have at your fingertips and offer them regularly to staff, clients and prospects? That must-have thing would you still stock?
We have kept things as simple as we could! This is a guide to the promotional items, their gigantic influences on the business-buyer relationship that every clever marketer should always keep in mind. You never know when it would be a time to surprise anyone with a promo offer.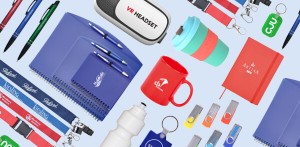 What Are Promotional Items
Promotional products involve everything with the name of a product. This may be something like a pen or a tag on a T-shirt, or almost as expensive as a personalized designer tub. Promotional products are used as free stuff at conferences, company rewards and organizational promotional facilities like paperwork. The word includes still designed canopies, stands and uniforms.
Benefits Of Giving Promotional Items
The business card days are not over, but the biggest issue now is that so many business cards are available. Have you just glanced at your pockets and noticed the stack? How do you trawl through them all in the world?! Okay, that is why promotional items such as personalized Flash drives are perfect substitution. Through adding on the brand name and slogan (and even contact details) differently and creatively, instead of simply sticking another business card in the pocket, you will meet future clients.
If you give gifts that can be used, it helps the organization to live with the person. If they go to take the jacket, the cupboard, the Flash drive you gave them, they are remembered. It will bring you more brand recognition based on how they chat about it or whether others see the promotional item they use.
The growth of the micro-influencer on social networking networks is a major gain for any organization engaging in advertising products. The sending of your promotional goods to main blogs and media influencers ensures they'll take a photo of them buying or selling the product. Word-of - mouth publicity is the best method for attracting industry leaders, and ads offer a fast way to achieve the attention of main influencers and their followers.
#3. Creating a Physical Connection
No one should enter a multimedia banner advertisement or a video on social media. It's missed fast, too. Anything you can do provides a concrete connection between your consumer and your business. It makes your business more memorable when gift recipients constantly see and use your products.
The range of cheap promotional items is perfect for an easy win at trade shows. Everyone needs to pick the free packaged sweets or grab commercial designs from stands to attach to their desk set. Yet valuable and high-quality advertising pieces give the brand a sense of luxury. This indicates that you know what you are giving: the clients believe that the high standard of support they expect represents a good quality donation.